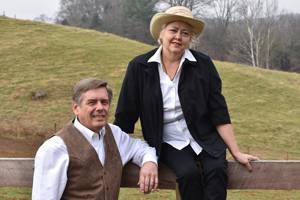 Larry and Gail Shaver
About Us
Point Pleasant Angus was formed in January 2016 by joining the forces of West Wind Farm in Blountville, Tennessee with the former A.G. Updyke Farm in Bland, Virginia. 
A small family operation, West Wind Farm was formed in 1992 by Larry and Gail Shaver at their home in Blountville. In addition to the property Larry and Gail purchased together, they farmed the land which has been in Larry's family since the 1800's. The herd was built by acquiring show heifers as 4-H projects for the kids, Jen and Brad, and retaining them in the herd.  The junior show circuit provided a valuable family activity while teaching principals of hard work and responsibility.
The A. G. Updyke Farm in Bland, Virginia was founded in 1891 by Junius Marcellus Updyke, Larry's grandfather. Larry's uncle, Uncle Gilmer, a devoted Hereford breeder with an affinity for Tennessee Walking Horses farmed the property until his passing in 1996.  We are excited and blessed to bring this beautiful property in Southwest Virginia back into the family. The property is located in what was previously known as the Point Pleasant area of Bland County and lies between Big Walker Mountain to the South and Brushy Mountain to the North. The property joins the Jefferson National Forest and abuts the Appalachian Trail. The farm hosts a Victorian farmhouse that is on the National Register of Historic Places, constructed in 1901 by Junius Updyke.  Gail has readily accepted the responsibility of heading up the restoration of the historic home.
Throughout the years we have made many friends in the Angus industry and have many stories to tell about our adventures with cattle at home and on the show circuit. Our emphasis has always been on presenting the cattle and ourselves in the best possible manner. We have always put faith and character first above all else in our operations. We are continually grateful for the opportunity to do what we love as a family.
Jen is an attorney and resides with her husband, Curt, and two children, Adalida and Gilbert, in Blacksburg, Virginia.
Brad has a doctorate degree in Plant Pathology from Clemson University and is employed by Helena Chemical Company. He lives in Lyman, South Carolina with his wife, Vivian Ann, and two children, Rex and Analee.
Larry retired from BB&T in 2018 and Gail is a faithful and patient mother, wife and award-winning artist. Larry and Gail live on the Blountville farm.
Over the years we have built a quality Angus herd that we are very proud of.  Many of our herd genetics come from outstanding programs such as Gamble Angus, Whitestone Angus Farm, and Tanner Farms. The matriarch of our herd is West Wind Primrose WW11, AAA Reg. No. 13999936, who was 1st place bred-and-owned at the 2002 North American Livestock Exposition Junior Angus Show.  She is out of Gambles Miss LBFB sired by Woodhill Resolution and goes back to Pine Drive Big Sky on her maternal side. This cow family consistently produces powerful females with outstanding performance both in the show ring and out at pasture.
At Point Pleasant Angus, we strive to be good stewards of the land, cattle, and industry, always operating with integrity and guided by our Christian faith and values.
While we are very proud of the past, we are just beginning a new and very exciting era. While our goal is to grow, we will continue our commitment to quality and excellence in everything we do. Please plan to visit either of our locations:  1404 Big Hollow Road, Blountville, Tennessee and 5849 East Bluegrass Trail, Bland, Virginia.  We look forward to your visit.